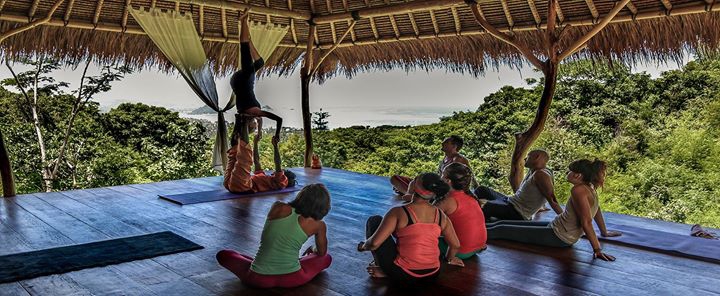 Acroyoga Workshop in Lombok - Connect & Play
Ashtari Yoga Shala
Sat Nov 12th 2016 to Sun Nov 13th 2016 at 08:30 until 15:15
---
Jalan Raya Selong

,

Lombok

,

Kuta
https://www.myguidelombokandgilis.com/events/acroyoga-workshop-in-lombok-connect-play
---
Ashtari Yoga Shala
MAKE ENQUIRY
Event Details
4 workshops on the weekend to grow, connect, strengthen, and play with joy!

Lead Teacher Santi Purnamasari
Special Guest George Anthony

Nov. 12 ~ 8:30 - 11:00 AcroYoga Foundations
Nov. 12 ~ 12:45 - 15:15 Transitions and Mounts
Nov. 13 ~ 8:30 - 11:00 High Flying Acro
Nov. 13 ~ 12:45 - 15:15 Acropeutic & Massage

Early Bird (by Oct 20th)
JOIN 2 DAYS 1.5million Rp. - Early bird 1.2million
JOIN 1 DAY 800,000RP - Early bird 700,000
(Breakfast & Lunch Set included)
JOIN HALF DAY 450,000RP

JOIN 3 DAYS 1.9million Rp. - Early bird 1.6million
(inc. Handstand Workshop - Master Your Handstand on Nov. 11th)

AcroYoga Foundations
Learn the basic acroyoga poses and techniques of partner yoga training that will be your foundation for the workshops. You will practice being the base, flyer, and spotter, the 3 roles for safe and fun flying. This builds your understanding and communication to your partners.

Transitions and Mounts
This workshop will get the flyer and base and spotter coordinating more and moving from one pose to another. You will learn different ways to for the flyer to enter the poses too. This is called the mount. Crazy fun and energy as you build your techniques.

High Flying Acro
Get high up and feel the exhilaration. We will learn more technical balancing poses and higher positions and basic three person acro. This class will challenge and push you to your limit with the support of the friends and partners, building greater trust together.

Acropeutic & Massage
To finish with a sweet touch, our acro workshops concluding leading you through inverted acroyoga therapy and thai massage sequences that are both healing and deeply relaxing. Use your presence, breath, and touch to give someone an amazing relaxation session.