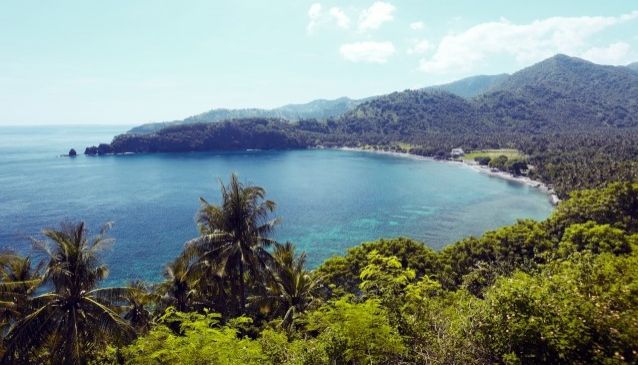 A New Paradise Open to the World
Editorial
In an era of growing leisure travel, Lombok is ideally placed to benefit.
Lombok is now firmly on the world travel map as a destination that offers unique tourism experiences. The island has long been a quiet haven for travellers seeking a natural environment different from other, more crowded tourist playgrounds.
That's changing – but it's changing in a planned way that is designed to nurture the island's unique shared cultures while at the same time defining Lombok as a great place to do business.
Until recently Lombok's only direct international air link was Silk Air's service from Singapore. Most travellers reached the island from Bali by air or on ferries and latterly by new fast boat services to the Gilis and Senggigi.
Today the options for flying direct to Lombok from overseas have widened.
In the main these additional services have been made possible by Lombok's biggest recent investment in public infrastructure, the US$22.5 million Lombok International Airport near Praya which opened in 2011.
Air Asia now flies direct from Kuala Lumpur. Jetstar, the Qantas low-cost airline from Australia, flies non-stop from Perth to Lombok. Perth is a prime market for neighbouring Bali. Now Australian holidaymakers have direct access to a quieter and distinctly different alternative.
Coupled with expanded domestic air services that link Lombok with Indonesia's major cities, the tourist market is set for big expansion. That's already begun. Official statistics show passenger traffic into and out of Lombok International in 2012 was nearly 13 percent higher than the previous year.
In 2012 aircraft arrivals and departures totalled 20,762 (57 a day). Passenger arrivals were 885,581 (2,426 a day) and departures 904,901 (2,479 a day).
Another good marker of economic activity is construction projects. Latest figures (2012) show building projects of all types numbered 821 that year. New resorts and villas have burgeoned in tourist areas and Mataram has experienced a boom in business hotel development.
The market for business ventures has also expanded, fuelled by domestic economic expansion and freely flowing investment funds from Jakarta, Surabaya and Bandung along with a steady increase in foreign investor interest.
The tourist environment in Lombok is laid back and friendly. It offers unique experiences to both domestic and foreign visitors, especially in the expanding green tourism sector.
The range of cultural experiences available to visitors is large and varied. Unique custom and religious rituals, splendid culinary opportunities and unspoiled natural environments are within reach of every holidaymaker along with world-class diving and snorkelling spots.
Amid all this, visitors can count on finding a quiet beach where they can relax. Even on Gili Trawangan, the aptly named Party Island in the famed trio off the northwest coast of Lombok, you can easily find a deserted strip of quiet beach.
In an era of growing leisure travel, Lombok is ideally placed to benefit. The new airport has made it feasible for big investors to add Lombok's spectacular Indian Ocean coast to their prospective portfolios, boosted by government's support for the new Mandalika tourism development area centred on Kuta on the south coast.
Kuta Lombok was a sleepy local community – it still is largely – known as a place where budget travellers could spend a day, a week, a month or even more.
The Novotel Coralia Lombok provides the star-rated accommodation option in the area.
But Mandalika, managed by the Bali Tourism Development Corporation which created the Nusa Dua star-hotel enclave in Bali, will add to accommodation options and holiday options.
This new focus will also foster development plans elsewhere in Lombok, notably in the spectacular Sekotong peninsula in the southwest. Improved roads are helping to make this area accessible to more tourists.
Sekotong's southern gilis, scenic coast and world-class attractions such as the Bangko-Bangko surf brake, renowned as among the best and most consistent on the world surfing circuit, are building profile in the investment community.
Most new business investment proposals flowing through the provincial government's one-stop-shop business development facility concern tourism or businesses that support tourism.
Planned development is the sensible goal, along with a policy of spreading economic benefit through as many sectors of the population as possible. The government actively promotes cottage industry. Lombok pottery and handcrafts are widely sought, increasingly as premium products.
But the greatest job growth is likely to flow from tourism development, where education is the key. This is where the provincial and regency governments are putting in maximum effort.
They're doing so in a way that is designed to foster local culture and tradition. That's a deliberate policy to avoid the "world tourism" effect that has removed unique cultural experience from many places or turned it into a Hollywood version of important local tradition. Discerning tourists want to see the real thing.
Tourism needs new markets but it also needs repeat business. Lombok's unique range of travel experiences gives visitors so many options that most will want to return.
This is Lombok's marketing edge in tourism: unspoiled, varied, increasingly accessible and able to provide acceptable facilities and levels of service across most of the island.