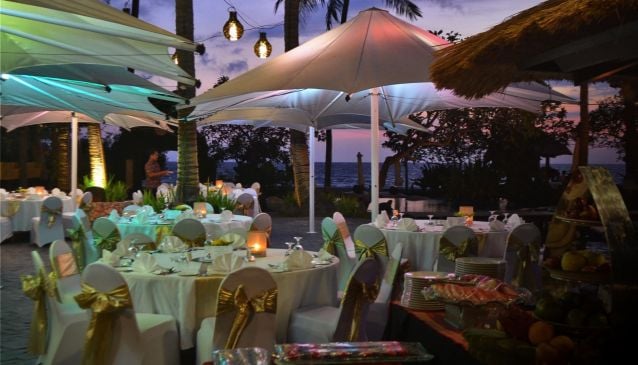 Celebrate New Year Lombok Style
Food & Drink
New Year is most definitely a time for everyone to let their hair down!
There a few better places to counting down the
New Year
under a starry sky in tropical
Lombok
. As the island's popularity grows each year, so does the number of inventive ways to celebrate. This is the time when
hotels
and
restaurants
across the island lure guests with special packages, kid-friendly events and of course, wild party nights!
New Year is most definitely a time for everyone to let their hair down. Lots of young locals head from their villages to the tourist resorts to mingle and party with the crowds. Hotspots such as
Senggigi
and the
Gili Islands
lay on a variety of showpiece events, ranging from
live music
,
all night beach parties
, and vivid
pyrotechnics
in the sky. Check out all the great food and party events planned in
Lombok
this festive season.
Ashtari Ocean View Restaurant & Lounge Bar, Kuta
Ashtari offers two palate pleasing fine dining menus for New Year – one serving up prime cuts of meat or succulent ocean fresh seafood. From lamb leg marinated with mustard to lobster flambe with Cognac, it promises to be an epicurean affair. There is live music and cocktails, and a lively set of funky disco, Latino house and rock n roll to get the party started in time for the fireworks at midnight
Priced at IDR1,200,000
Reservations: 0877 65497625
White Night at Novotel, Kuta
A sumptuous Gala Dinner on the beach to see in the New Year with a 20% discount offered for all guests wearing white. There is a full programme of vibrant entertainment lined up including live band and DJ, traditional and hip hop dancers, a fire dance and fireworks display to welcome in 2016.
Reservations: (0370) 6153333
reservation@novotellombok.com
Sheraton Senggigi
Year-end festivities are always epic at Sheraton and this year promises to be just as spectacular. A comprehensive 'Around the World' buffet dinner is accompanied by a live band, DJ parade and fire dance and a dazzling fireworks display to see in 2016. There are also door prizes up for grabs for a lucky few.
Reservations: (0370) 693333
Puri Mas
Year-end at Puri Mas is always an epic event and the excitement is already ramping up for this New Year's Eve dinner and party. It kicks off with welcome cocktails, an enticing buffet feast of fine dining, and lively entertainment as the clock counts down to 2016. Early booking essential for this ever popular
festive celebration.
Priced at IDR850,000++
Reservations: (0370) 693 831/email: info@purimas-lombok.com
Chandi Boutique Resort
To the sounds of live music and traditional dance, a Chandi New Year extravaganza means pure culinary
pleasure. There is a highly imaginative menu featuring Atlantic salmon and king prawn and roasted Australian lamb rack, finished off with decadent delights like velvety white chocolate mousse.
Priced at IDR950.000++
Reservations: (0370) 692198
Sudamala Fisherman's BBQ Party
New Year at Sudamala is set to be a glittering affair with a sumptuous BBQ dinner kicking things off, followed by the Sudamala Talent Show, fire dances and DJ. It promises to be a night to remember.
Priced at IDR750,000++ / children under 12 years IDR375,000++
Reservations: (0370) 693111
Jeeva Klui
Jeeva Klui's gala dinner buffet is indeed a tempting spread of fine cuisine and the perfect way to celebrate the end of the year. Diners will embark on an indulgent culinary journey with diverse pan-Asian flavours and hearty western favourites. If you only splurge once a year, make it in Jeeva Klui this NYE.
Priced at IDR1,100,000
Reservations: (0370) 693035
Lotus Bayview
Lotus Bayview presents an Italian themed party night this New Year with fab food and entertainment, including a guest singer and vibrant fireworks to see in 2016. There is a choice of two delicious menus to choose from including traditional Indonesian or a selection of tempting western flavours.
Priced at IDR150 000++ pp for Indonesian menu / IDR250 000++pp for Western menu including a glass of wine.
Reservations: (0370) 693758
Square Senggigi
Celebrate the start of 2016 in fine style with Square's 5 Course Gourmet New Year Dinner which includes a free glass of wine for dining reservations made in advance. It's an inventive menu filled with creative delights fit for the biggest night of the year with baked rock lobster, wagyu beef tenderloin and more. Bon appetite.
Priced at IDR590,000
Reservations: (0370) 6644888
Temptations
Be tempted with a fine New Year's Eve Celebration menu that is sure to get the taste buds tingling. There is a traditional western flavour to the menu, featuring lamb medallions or creamy seafood Alfredo pasta, along with an irresistible choice of desserts to finish.
Priced at IDR300,000
Reservations: (0370) 693463
Masquerade New Year at Karma, Gili Meno
Gili Meno's big night out begins early from 4pm with sheesha and sundowners to the sounds of a DJ set. A sumptuous New Year's Eve dinner follows with a menu of premium delights including seafood ravioli, slow roasted black angus beef and tempting desserts.
Priced at IDR650,000++
Reservations: (0370) 630981
Mahamaya, Gili Meno
New Year's Eve dinner runs to an epic 7 courses including premium fillet steak or seared salmon at Mahamaya, where the gourmet food experience is perfectly complemented by a vibrant New Year fireworks show, fire dancing and live music.
Priced from IDR750,000
Reservations: 0888 7155828
Seri Resort, Gili Meno
Seri is proudly hosting a New Year Party promising a memorable night of fun and great food. It begins with a comprehensive New Year dinner followed by a party celebration with access to the VIP Lounge.
Priced at IDR600,000 per person for dinner and party.
Reservations: 0819 07467235
New Year at Cabalito de Mar, Gili Air
A vibrant New Year celebration is planned at Cabalito with a sumptuous dinner and special party with live entertainment to end 2015 on a high.
Priced at IDR550,000
Reservations: info@cdemar.com
Hotel Vila Ombak, Gili Trawangan
As always Gii T's Vila Ombak pulls out all the stops for the biggest night of the year. Starting early, there is a full programme of entertainment beginning with a carnival and welcome dance. During the sumptuous gala dinner there are door prizes and live music and ushering in the final hour of 2015, the 'Gili Glow' party kicks in with guest international DJ.
Priced at IDR1,500,000
Reservations: (0370) 6142336