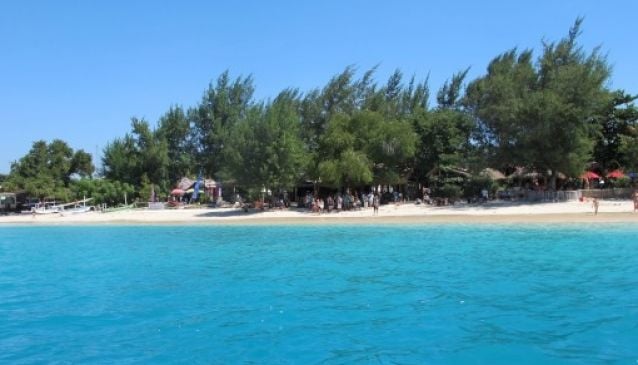 Close Encounters in the Gili Islands
Adventure
The water is a tropical 28 degrees, allowing you to dive without putting on an awkward wetsuit.
I recently travelled to Gili Trawangan, the largest of the three Gili Islands, in search of some great diving sites. I'm by no means a very experienced diver, but being certified, I've had the chance to dive the Great Barrier Reef and Whitsunday Islands, as well as exploring three islands off the east coast of Thailand. I'd heard about Gili Trawangan and decided to spend four days there and book a few dives.
I left a stormy Bali on a fast boat to the Gilis, and was soon disembarking under beautiful sunny skies. On arrival, the island does appear somewhat manic, what with travellers coming and going and the locals hustling you with their hotel transfer offers. However, the fact that these offers involved a horse and cart was a welcome break from the cars and mopeds of Bali, and the sense of less pollution and traffic noise was certainly a breath of fresh air – literally!
I hopped on a horse and cart to my hotel, a short but bumpy ride over the uneven roads. This was an experience in itself, but getting such a lift is not always necessary – you can walk everywhere relatively quickly and easily. I also stopped off on my way to book a couple of dives; the relaxed nature of the island means you only have to turn up at a dive centre and write your name on a board!
Hotel Vila Ombak was my home for the duration of my stay; an idyllic stretch of bungalows featuring the traditional building style of Lombok set in surroundings of natural beauty. My room was very spacious and clean with an unusual roofless shower area open to the elements; I was often visited by spiders and geckos, making a trip to the bathroom a much more interesting experience!
The hotel also had a beautiful stretch of beach overlooking the smaller Gili Islands and the mountainous volcanoes of Lombok. With great restaurants and bars supplying me with drinks and snacks while I lazed on a bean bag soaking up the sun, this was an incredibly relaxing and beautiful place to be. A big screen was put up after dark to play movies on the beach - I experienced this on my last night, and I can definitely say it was the best place I've ever watched a movie.
From this beach you can walk into the sea with your snorkel, mask and fins and within minutes be snorkelling with an array of marine life and beautiful coral reefs. On my first day I hired some equipment from right on the beach and was barely in the water a minute before a hawksbill turtle started swimming alongside me! If you love the sea and the creatures that call it home then a visit to this island cannot fail to provide a memorable underwater adventure.
Time to DIVE!! The diving around the Gili Islands is what attracts many tourists to the region and rightly so. Whether you go to learn and introduce yourself to diving, or if you are a more experienced diver, the Gilis doesn't disappoint; I can safely say this was the best diving I've ever done. The water is a tropical 28 degrees, allowing you to dive without putting on an awkward wetsuit, and there are no long boat rides – you can be in the water within 10 minutes, as all the dive sites are in close proximity to the islands.
The marine life was fantastic. I have a particular interest in sharks but they have always eluded me on dives - apart from a cage dive with great whites in South Australia. I really wanted to do a normal dive and then get the excitement of a shark making an appearance. So my first chosen dive destination on Gili Trawangan had to be the aptly named 'Shark Point'. However, the sharks stubbornly refused to appear yet again! Far from being disappointing, the dive was still one to remember, with plenty of turtles, giant moray eels, a couple of blue spotted stingrays, an octopus and hundreds of reef fish.
My afternoon dive that same day saw me venture out to 'Manta Point', a site famous for its manta rays during the wet season. As I was visiting during the dry season, I had no hopes of seeing these animals, but I had heard it was also a good place to spot sharks. This time I was in luck - within five minutes of entering the water, I was floating on my front watching a juvenile whitetip reef shark circling under a rocky overhang; appearing out of the darkness of the cave and then retreating back in. And more were to come – I spotted a total of four whitetip reef sharks that afternoon, making it a very memorable dive.
My final underwater adventure on the island was my very first night dive; what an experience that was! As I only held an open water dive certificate I had to do a little bit of homework to allow me to do the night dive, which wasn't a problem as the dive definitely made it worthwhile. There were only two of us on the dive and we were able to see some of the more unusual sea creatures that come out at night, such as lionfish, dwarf cuttlefish and the very strange spiny devilfish.
If it's diving you love, a trip to Gili Trawangan should definitely be on your agenda! The centres I dived with were all professional and friendly, and the marine life found around the Gili Islands is second to none. Even if diving isn't your thing, there is some great swimming and snorkelling to be had straight off the beach. With stunning sunsets and that chilled out paradise feeling, Gili Trawangan is a must for any keen traveller out there; I know my four days on the island were some of the best I've ever experienced.
If you liked this article, why not follow Sean on Facebook or Instagram.