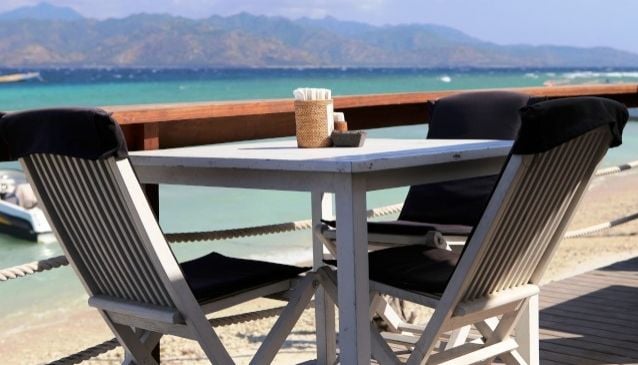 Dining in the Gili Islands
Editorial
In the Gili Islands Seafood is King such is the sheer volume of snapper, barracuda, lobster...
Even from the early days as a tropical haven for the backpacker crowd, food has always been an essential part of island life and it should come as no surprise to learn that in the Gili Islands, seafood is king. At first glimpse, it can feel as though there is little else to feast on, such is the sheer volume of snapper, barracuda, lobster and the like displayed on ice ready to be devoured. However, the Gilis' dining scene is a vibrant, ever-changing one where tapas and Thai rubs shoulders with sushi and spicy street food.
Gili Trawangan can claim to be the foodie epicentre but on Gili Meno and Gili Air, you certainly won't go hungry either. Best of all, in contrast to many parts of south Bali, you won't pay inflated prices for beachfront dining. Virtually everywhere, a gorgeous ocean view comes as standard, often with tables right at the water's edge. Here are our top 10 picks for dining in the Gilis, chosen for quality, overall value and atmosphere. Enjoy….
Gili Air
Frangipani Garden
For a change of scenery from the beachfront dining scene, take a short stroll inland for good food among a forest of tropical flowers. The Frangipani Garden has been around for years, but is still something of a local secret. Enjoy authentic Indo bites like gado gado and nasi goreng, burgers, pasta and more amid chirping birds and scurrying geckos. A good spot for an intimate night out for two.
The Santay
Another long-time favourite is the Santay, occupying a great spot for breezy ocean views. This is arguably the best place to fulfil your cravings for authentic Thai food – the broad menu also features grilled seafood and local Indonesian stir-fries. Good service and always a chilled-out atmosphere.
Biba Beach Café
This Italian owned beach restaurant is the island's top pick for pizza and pasta lovers. There is an ambitious menu of wood-fired pizza, lasagna, gnocchi and much more to dive into, and always consistently good. Attentive service and a romantic vibe ensures a memorable night of wining and dining and is definitely worth the few extra rupiah.
Gili Meno
MahaMaya
For fine dining in Gili Meno, MahaMaya is in a class of its own complemented by a sublime beachfront setting. Tables are well spread out by the water's edge, giving the impression of private dining under flickering lanterns and the night sky. It offers an innovative, mostly organic menu of modern Asian fusion, pasta, gourmet sandwiches and much more. Expect attentive, efficient service and a fabulous array of delectable desserts.
Sunset Gecko
As the name suggest, you get a front row seat to amazing sunsets with your meal, either dining in the main restaurant or in a private 'beruga' on the sand. The main focus is on ocean fresh dishes including seafood curry, grilled snapper and tuna steaks. They also do a mean burger and club sandwich. A big bonus is the very reliable Wi-Fi connection – a rarity on Gili Meno.
Rust
A long time backpacker favourite with a lively buzz, Rust is still one of the cheapest places around for tasty home cooking. It covers all bases with nightly seafood barbecues, local bites and all the usual western favourites including pizza and steaks. Don't expect super quick service, but it's in a great spot to catch the sunset.
Gili Trawangan
The Night Market
Variety is the spice of life as they say, and you certainly get your money's worth at the Night Market. After sun down, dozens of tiny food stalls serve up everything from fried fish, grilled chicken steaks, noodle soup, satay, fried rice, bakso meatballs and much more besides. It's the best place to try out some of Lombok's less common street snacks and spicy delights and at around half the cost of normal restaurant prices.
Fortuna Café
It's a tried and trusted formula of grilled seafood and steak with an all-you-can-eat salad bar at Fortuna Café. Expect a vibrant buzz with a great live band and friendly, efficient staff. Always a busy place, it's a great spot to hang out by the beach with a cold beer.
Scallywags
Located on the southern end of the beach strip, there is a definite step up in quality at Scallywags, with a comprehensive BBQ section, tapas bites, pasta and hearty home-made pies on offer. You'll get speedy service with a smile and can dine by candlelight on the beach or indoors in the stylish diner. There is also a branch on Gili Air with a similar menu.
Kafe Kecil
The bright purple décor won't be to everyone's taste but this is a great spot for good food at rock bottom prices. It is set back a five-minute walk inland from the harbour but well worth searching out. The excellent Thai food is the highlight but the menu covers a broad range, from local spicy favourites to western comfort food. Although service can be a little slow at times, it's a good place to linger with an ice cold beer or fruity cocktail.
Black Penny
You won't be short of choice at this lively open air beachfront eatery, boasting a wide selection of global cuisine, all consistently good. The pizzas are fab, the seafood fresh and there is a wide array of exotic cocktails and smoothies to sip. With an adjoining day spa, you can get a quick back rub or dip your toes in the fish spa while waiting for your order.