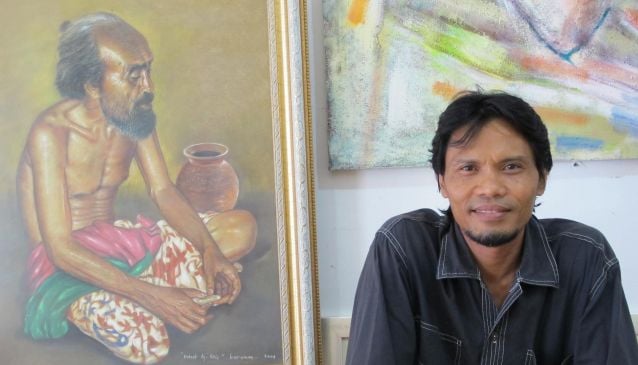 KARYANA'S ARTISTIC JOURNEY
Arts & Culture
"My work is not influenced by fashion or trend, I'm inspired by everything," says Karyana.
Karyana is a self-taught, Balinese artist from Lombok, who has been drawing and painting most of his life. When he was a young boy he would draw stories in the sand for his friends. Each one was a portrait, inspired by comic book characters. "I would then tell the story but of course everybody wanted to be a hero," he recalls. "I left school two years before the end of my high school education because my father had passed away and my mother could no longer support me, so I became a street seller. Then in 1989, the government opened a Young Artist Community School in Mataram. Pak Gusti Bagus invited me to come there; I was the youngest artist there and he really encouraged me."
To begin with, however, this artist's journey was not a profitable one. In 1991, Karyana moved to Ubud, Bali, where he worked as an artist in a gallery. "I got my materials, food and accommodation paid for, and if I sold one of my paintings I would get just two percent commission. After one year I moved back to Lombok, where I worked in a studio for three years designing posters."
Well, every struggling artist needs a little bit of help. In fact, arts patronage can be seen throughout history via the support, encouragement, privilege, or financial aid that kings, popes and the wealthy provided to artists, musicians, painters, and sculptors. Karyana's encouragement and support came from a Dutchman. "I met a crazy friend from Holland, Mr Ewout, who supported me and encouraged me to design for his projects. Every time he went to Holland he would bring me back art materials and lots of books, and he would promote my work to his friends." Karyana maintains that Mr Ewout gave him the best ever piece of advice, by telling him, "You do not have to do anything. Just become an artist!" He then opened a gallery in his house in Mataram, and for seven years now he has had his own gallery/studio in the Pasar Seni Art Market in Senggigi. His next goal is to open his own commercial art gallery in Lombok, and his dream is to find a sponsor, "so that I can keep painting and present my art work at exhibitions. If this happens it will be a dream come true."
Karyana has already exhibited his work at a number of exhibitions, including solo exhibitions in Neumont Guesthouse Sumbawa, Four Seasons Bali, and St Regis Bali, and group exhibitions at Taman Budaya, National Gallery Jakarta, and most recently at the FreshAir Fine Arts Festival in Singapore. "I had one of my paintings at the Four Seasons in Bali," he laughs, "it has been there for five years and I had forgotten about it. I got a phone call the other day saying they had just sold my painting. Thank goodness I still had the same number, hahaha!"
In his early career, he painted in a realism style, creating portraits, depicting nature and scenery, and capturing – in a transparent, sepia, watercolour wash – the traditional everyday life of the people of Lombok. Over time, as Karyana moved into the realms of impressionism and expressionism, his predilection for fleeting impressions led him to an ambient space that borders on the abstract, but he claims, "I still do draw and paint everything." A few years ago, he developed a new technique by combining watercolour with oil and ink, which gave birth to his concept of "Evolution." He has used this technique to render animals and Indonesian icons, traditional Balinese motifs and imagery with unique flair, in a completely new way. He explains, "When you paint landscape you know already how it looks but with evolution you have no idea. With this as my theme, I can transfer my feeling and imagination into my paintings. My mentor taught me that an artist must start with realism, otherwise he cannot improve. My concept of evolution is that if I became a god I could make anything and call it anything. Everything evolves. For example, who decided that an elephant should have a long trunk? Evolution is a mystery that has inspired me for a long time."
The artist explains his creative process, "It depends on my mood. If I paint on paper I just lay the paper on the floor and start to paint. I need a lot of space and I prefer to work at night as it is quieter. If I paint in an expressionistic style, I hold a large Bintang in one hand and paint with my other hand and I have to finish my painting by the time I have finished drinking my Bintang." All of Karyana's paintings have a story, even the abstract paintings. "They are all about my feelings, my emotions. My Evolution series is about what the object will look like in 200 years time or what it did look like 200 years ago. I paint using mixed media in the same way you paint using watercolours."
The results are striking original artworks.
You can see more of Karyana's artwork on his website: www.karyana.net
ph: +62 8185 40569; email: villamanis@yahoo.com