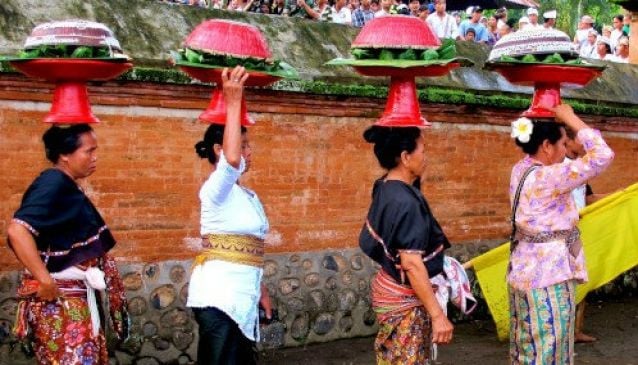 Perang Topat Festival in Lombok
Arts & Culture
Perang Topat is one of the most unique traditions in Indonesia - fostering friendship between Lombok's two main religions.
Endearingly described as a "multi-cultural food fight" Perang Topat is one of the most unique traditions in Indonesia - fostering friendship between Lomboks two main religions. It takes place at Pura Lingsar temple, a short drive east of Mataram and a fitting site to hold such an event. Built in the 18th century by Balinese Hindus, Pura Lingsar also houses a Muslim shrine and is the only place where both Hindus and Muslims worship together.
This centuries-old ritual, essentially a harvest festival to bless the following year's crops, takes place annually according to the Sasak lunar calendar, usually in November/December. The 'topat' in question are sticky rice cakes wrapped in coconut leaves which serve as the ammunition for this good-natured free-for-all. After several days of preparation, commemorative offerings and prayers, the command is given to wage war. Scores of Hindus and Muslims charge headlong into the fray hurling lumps of sticky rice at each other. It's a chaotic and very colourful ritual and curious visitors are welcome to mingle with the crowds, although if you get a little too close to the action you can expect to be hit by a few wayward missiles.

It's an extremely good natured battle with much laughter and chanting from both sides, egged on by thousands of onlookers. After an hour of all-out 'war' the remaining topat rice parcels are distributed among locals or replanted in the fields to ensure another bumper rice crop. This is a ritual which has been performed for generations, nurturing tolerance and understanding between the Hindu and Muslim communities. While the ritual war spectacle is the big crowd-pleaser, the event encompasses elaborate parades of fruit, flowers and rice cakes, traditional music and communal feasts before and after the main event. It is a unique and exciting occasion that typifies the strong communal spirit in Lombok and a fascinating cultural happening not to be missed.
*Will be held on the 13th Dec at Pura Lingsar Temple