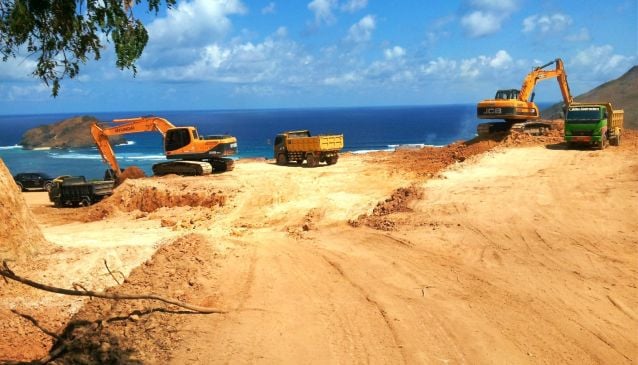 Servicing Land
Adventure
"Servicing" is a very fashionable word right now in South Lombok
"
Servicing
" is a very fashionable word right now in South
Lombok
. Everybody is trying to "service" their land, which is a process of transforming raw land into ready to build housing or commercial sites.
Land development process involves improvements that have indefinite life, such as draining, dredging, excavating, filling, grading, paving and more. It can also include supplying water through bores and connection to high voltage electricity grids. So far results have been very mixed in Lombok among private and company developers because many have lacked reliable professional skills and local networks.
A talented masterplan designer, an experienced
site manager
and a reputable
legal adviser
are a "must".
NagaIndo
does not only sell
premium land sites
but also offers strong
servicing skills
. As an example, they have recently drilled a 80m bore on their site
Gili Nusa Estate
, Are Guling. The daily supervision of their local construction manager has saved them a lot of trouble in terms of the choice of the bore machine, the testing the water quality and the pressure of the water source.
Besides, the input of their local coordinator has also accelerated the paperwork with local officials and the backing of the community who lives around the valley. They believe most clients should focus on maintaining the quality of their land and protect it from strong erosion (winds, salt from the ocean, rain after 6 month dry season). NAGAINDO can handle that for you while you focus on your dream villa or project.
That includes not only land stabilization efforts through works (retaining walls and drainage) but also
Vetiver Grass
implementation. Few existing plants that have been known and used quietly over centuries, have suddenly been promoted and widely used world wide in the last 20 years like
Vetiver Grass
. And fewer plants have still been idolised as
"Miracle Grass"
or
"Wonder Grass"
with the capacity to create a living wall, a living filter strip and "live nail" reinforcement.
While NAGAINDO usually offer most sites in an advanced stage of servicing, the upgrade is an ongoing process. Their competent team can guide you through the different servicing needs.