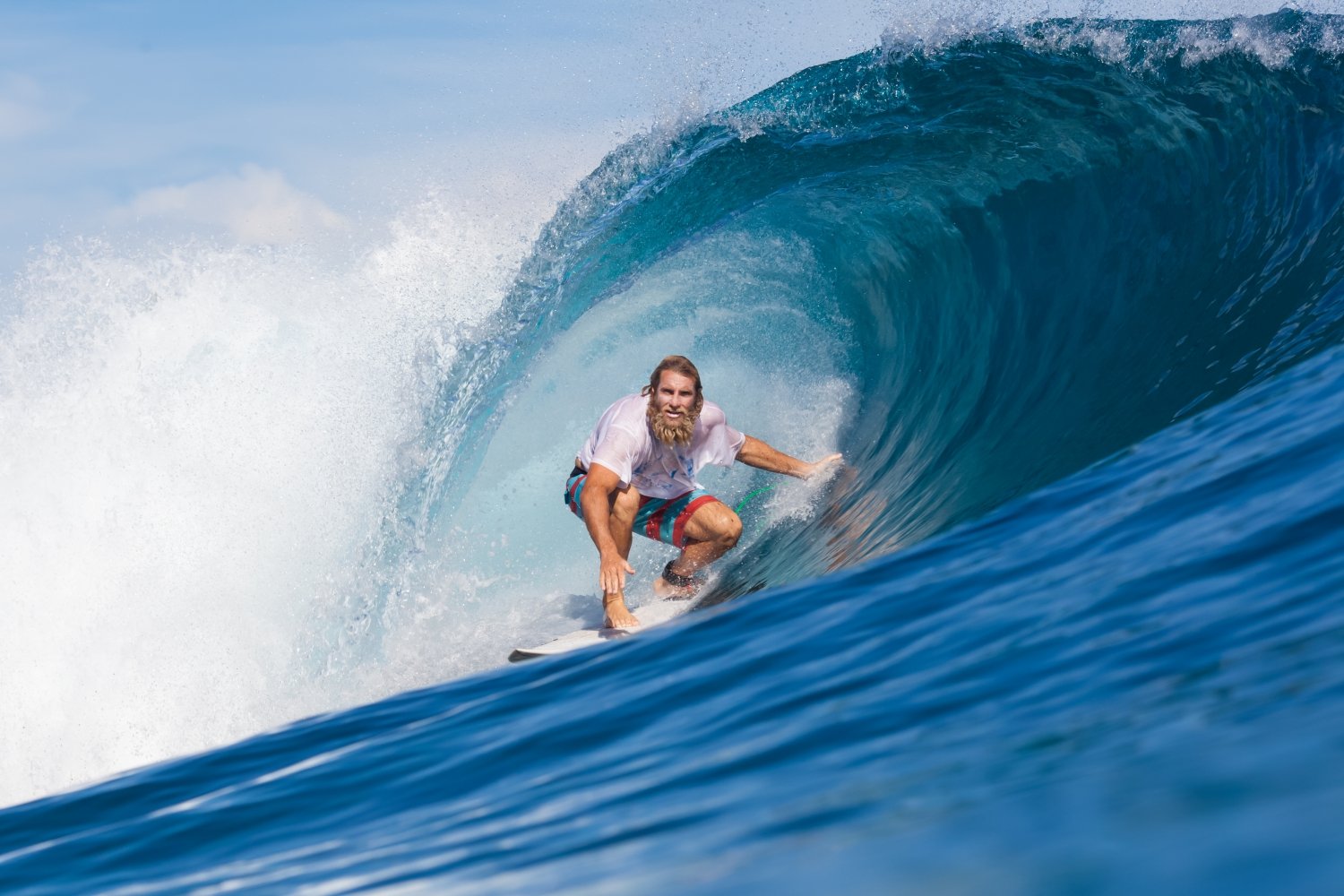 Surfing in Lombok
Adventure
Shallow, fast, and super hollow, Bangko Bangko is reserved for the most skilled surfers
LOMBOK for SURFERS
Commonly heralded as a less developed, less tourism dominated version of Bali, Lombok offers similarly characterised surf spots. The waves are less crowded and in more remote locations; and with the exception of Desert Point, most of the spots can be described as mellower than those in Bali, making it ideal for beginner/intermediate surfers and those approaching an advanced skill level. However, for those who have the time and don't mind back-wrenching motorbike rides, the coastline offers open-ended wave potential given the correct swell direction and conditions. Here are the basics on some of the most popular spots:
Lombok's surfing crown jewel, and heralded by some as the best waves on the planet, Desert Point (locally known as Bangko Bangko) is the island's most well known wave. Shallow, fast, and super hollow, Bangko Bangko is reserved for the most skilled surfers. I've seen people get barrelled four times on the same wave. It's rumoured that twenty-second barrels are possible, as some rides can extend as far as 300 meters. But beware; even if you manage to stay on your board for the entire stretch, there is rarely a clean exit, and if you don't kick out early, then chances are high that you'll hit the sharp reef/rock bottom. Let's put it this way, I almost wore my motorbike helmet the last time I paddled out at Bangko-Bangko.
Speaking of helmets and motorbikes, the spot is positioned on the very southwest tip of Lombok, making it accessible by motorbike if it is the dry season (it's common for surfers to charter a boat from Bali), which brings me to my next point, ideal conditions.
Dry season—May through October—is the best time of the year for Desert Point. Meanwhile, large southwest swell and east-northeast winds work best for this spot.
Simple accommodation and meals can be found directly in front of the wave, where a few homestays line the beach. More luxurious rooms, offering electricity (and aircon), are just a twenty minute drive down the only road that exits Bangko-Bangko.
Next up - Mawi. This spot gets a lot of points for scenery and consistency but fewer points for quality of surf. Breaking over sharp reef, the wave here can be unpredictable as the peak is constantly shifting. Still, rights and lefts can both be had. Goofy footers will enjoy a low energy, mushy left that offers—on average—a 30-meter ride. Regular riders will find a higher-intensity, longer, right-breaking wave that can get hollow on the shallow inside section. Overall, Mawi is a consistently mediocre wave. The best rides are had on a rising tide with a southeast swell. It starts working at 1.0m-1.5m and can hold up to 5m. Waves can typically be found here on a year-round basis.
Located on Lombok's south coast, Mawi is about a twenty-minute motorbike ride west of Kuta, a surfer's haven that is easily accessible form the island's new airport—just a thirty minute drive away.
For accommodation, head to Kuta. For a healthy meal and a mind-blowing view of Kuta, stop at Ashtari restaurant before or after heading to Mawi. If you're going to Mawi from Kuta, you will see the restaurant at the top of the first big hill. The all natural and organic food choices are a rare treat on Lombok. The coconut mixed with chocolate smoothie is a personal favourite.
While Mawi is located west of Kuta, numerous waves also lie east of Kuta. Three of the most frequented waves include Inside Gerupuk, Outside Gerupuk and Dom-Dom's. To get to these waves from Kuta, go east on the only road heading out of town. After driving about ten minutes, you'll head end into a small fishing village. From there, you'll be able to hire a small outrigger to take you to the different spots. The closest wave from your departure point is Dom-dom's.
A mellow left and right breaking wave, Dom-dom's is perfect for first-time surfers. The greatest danger here will be other people's surf boards. If you don't find waves here, don't worry; more surf is a short boat-ride away.
The closest wave from Dom-dom's is Inside Gerupuk, which is also a good choice for beginning surfers. Offering a right-hander, it can line up for a ride reaching 40 meters.
For larger waves, head to Outside Gerupuk, which is about ten minutes from the inside. This spot is more exposed than Dom-dom's and Inside Grupuk, allowing it to pull in larger surf. Still, this mushy right-hand wave is quite slow as it breaks in relatively deep water. Be careful, however, when catching the wave because the takeoff zone is adjacent to an unforgiving cliff face.
Ideal times and conditions for these three spots are March through October—dry season—with a ground swell from either the southwest or southeast and winds out of the west-northwest. The spot starts to work at 1.0-1.5 meters and can hold up to 4 meters.
After surfing at Grupuk look to Kuta for a diverse selection of dining and sleeping options. Nugget's Corner, located in the middle of Kuta's main strip, is always a popular stop for hungry surfers. With hefty portions of local and international foods and fresh-squeezed juices, the restaurant won't disappoint.
Go from Lombok's south coast to Senggiggi, the island's main tourist town, on the westside of the island to find another popular reef break. This spot passes under the radar of a lot of visiting surfers for a few reasons. First, it's fickle. It is frustratingly inconsistent and requires a large swell to work. Next, it can turn on and off like the switch on a light. Lastly, if Senggigi is working it usually means Desert Point is working as well, which is a more popular choice for a lot of touring surfers. To make a long story short, you'll have better luck checking the more consistent spots, like Grupuk or Mawi.
As Lombok's tourist epicenter, Senggigi offers accommodation and meals for all budgets, and the point break is directly in front of the massive Kila Senggigi Beach Resort.
Offering a left and a right, waves can potentially hit Senggigi reef all year long. The left typically works during the dry season—May through October—while the right is best in the wet season. Both waves are racy and hollow, breaking in shallow water and over sharp reef. When it's big, Senggigi is best left for an advanced skill level.
Going from the westside to the southeast corner of Lombok takes us to another commonly frequented surf spot--
Ekas Bay
. Reachable by both boat and motorbike, the pristine bay has untold wave potential. However, if you're planning on riding a bike, be prepared for a mission. Unmarked, winding roads through rice fields and dense thickets make it a challenge to find the two surf spots, Inside and Outside Ekas. Both waves are of good quality for very different reasons.
Insides is a long, machine-like and "shreadable" right-hander. While the peak can be shifty, the spot produces essentially the same wave over and over again. The first section lines up beautifully, allowing time for at least a couple of good turns. When the wave hits the shallower, inside section, and if the swell is large enough, it is also possible to get a quick tube ride. Overall, the inside is a quality wave for intermediate and advanced riders. Ideal swells for this dry-season spot originate out of the southwest and offshore winds blow from the east. It's best on a rising tide.
If you're stoked about 400 meter paddles through unruly, churning water to arrive at unpredictable, heaving surf, then Outside Ekas is for you. The reef is very exposed and pulls in a lot of swell with accompanying rip currents. Be warned, be experienced. Outside Ekas is open to swells from the south, southwest and southeast. Ideal winds are southeasterly. The spot starts working here at 1.0 meters and it can hold up to 2.5 meters.
Regarding accommodation, Kilolo homestay offers simple bungalows and food options close to the inside wave. More luxurious accommodation can be found at the massive Heaven on the Planet resort, which provides easy access to the outside wave. The home stay and hotel provide food and beverage options.
Regardless of skill level, Lombok has a broad selection of waves and beaches. The waves described here are just a few of the most frequented locations. More information about surfing on Lombok and swell forecasts can be found at magicseaweed.com.