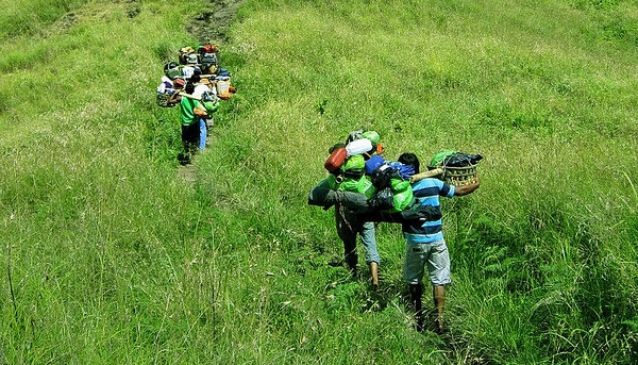 Top 10 Things To Do in Lombok
Adventure
The coastal scenery here is a constant source of inspiration
Lombok's real beauty lies in its amazing diversity where windswept palm fringed beaches, pounding surf, dense rainforests and quaint mountain villages can all be experienced in a day. The island is rightly famed for its pristine tropical beaches but if you like a varied diet of eco-adventure, a little art and culture and thrills above and below the waves, then Lombok definitely is the place to be. Check out our top 10 picks for a memorable Lombok holiday – there's something for everyone!
Hiking Rinjani Volcano
At almost 4,000 metres high, climbing Lombok's soaring Rinjani peak is no walk in the park but with time (allow three full days for the climb) and above average fitness levels, it's an experience not to be missed. This is a monumental volcanic peak that covers a large proportion of north Lombok; be rewarded with awe-inspiring views at sunrise spanning as far away as the islands of Java and Sumbawa to the east. Best of all, en route to the summit take a refreshing dip or go fishing in the huge fresh water crater lake at almost 3,000 metres above sea level.
No trip to Lombok is complete without a taste of the unique laid back beach vibe of the famous Gili Islands. These three tiny tropical islands, just a short outrigger boat ride away, boast idyllic white sandy beaches and a great beach party scene after dark, especially on lively Gili Trawangan. All three islands are a haven for scuba diving with spectacular underwater reefs home to diverse and exotic marine life. If your time is short, take a three-island snorkelling boat trip for a fun day out swimming with turtles.
Lombok is rightly acclaimed for its world class pottery heritage with unique, age-old techniques used to make spectacular, high quality earthenware. Spend a day touring the many independent workshops, watch artisans in action (and have a go yourself!) and pick up a bargain to take home. Take a trip to the villages of Banyumulek, Penujak or Masbagik for the finest range of pottery goods at the best prices.
Located in the foothills of Mount Rinjani, the village of Tetebatu is Lombok's most scenic inland tourist spot, yet is still well off the radar and the pace of life is low key. Located at 500 metres above sea level, it is refreshingly cool, offering respite from the heat and the perfect alternative to the usual diet of sun, sea and sand. Surrounded by forested mountain slopes and rolling rice and tobacco fields, the scenery is superb. There are numerous easy hiking trails taking in the Tetebatu Monkey Forest and secluded waterfalls. The village also has its artistic side too, being noted for basket weaving and black terracotta pottery.
Tucked in between the ocean and the steep slopes of Rinjano volcano is Lombok Golf Kosaido Country Club, a championship course with spellbinding scenery on every hole. Seamlessly following the natural contours of the land, the outward nine holes are framed by idyllic white sand beaches overlooking the Gili Islands; you are sure to be distracted by the sheer beauty of signature hole no 4, where you tee-off virtually on the beach. The back nine offers an equally inspiring backdrop with dramatic mountain views.
Few places in Asia can match Lombok's underwater biodiversity and diving is a big draw for novice and seasoned scuba fanatics alike. If you are new to diving, the Gili Islands are the best bet for learning the basics with numerous five-star multi-lingual dive schools, easy access to the reefs by outrigger boat and plenty of fun distractions out of the water too. For the more adventurous, head to the southwest peninsular at Sekotong Bay for miles of pristine coral reefs harbouring an amazing variety of rare marine life – a must for underwater photography enthusiasts.
Like its more famous namesake in Bali, Kuta-Lombok is also a surfer's paradise with a lively surfer-friendly community. It makes a good base for exploring a succession of secluded bays on the south coast with barrelling waves and picture perfect tropical beaches. There are waves suitable for all levels such as relaxed Tanjung A'an to the awesome surf at Mawi and isolated Ekas Bay.
If a climb to the summit of Mount Rinjani seems just a little too arduous, the short trek to famous Sendang Gile waterfall makes for a cool and refreshing alternative. Located in the foothills of the mountain, this spectacular cascading falls is a highly photogenic sight, surrounded by dense rainforest, dropping over 50 metres into deep fresh water pools – the perfect spot for a refreshing dip.
Catch a glimpse of modern city life in Lombok's only urban area. The capital Mataram is actually made up of three separate towns; the old port of Ampenan, modern Mataram and the bustling shopping district of Cakranegara. Spend time people watching at the mall, visit a chaotic traditional market, or sample spicy local flavours in one of the many roadside food stalls around town. It's a great day out for cultural buffs too with several impressive Hindu temples including the 18 century 'floating' Mayura Water Palace.