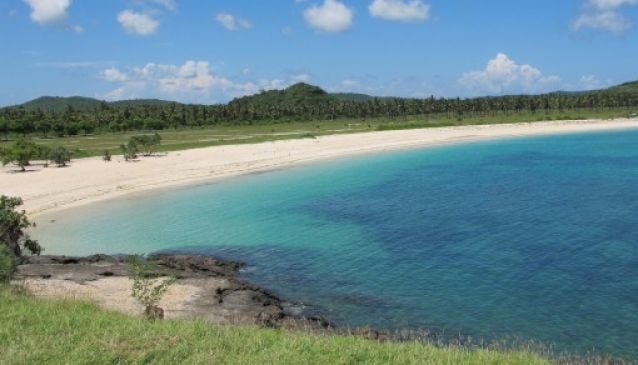 Walking the South Coast of Lombok
Adventure
It had a hypnotic effect on me for a while, as I didn't feel I wanted to leave.
We met on Lombok, in a bay where you could walk down to the 'face rock' at low tide. I was directed, by a friendly gentleman, to where a lady and man were going back to get some photos of "the Lady Rock" or known as 'Batu Payung – Umbrella Rock' in Lombok. They took a photo or two of this lady too, since I had accidently left my camera behind.
It was lovely meeting people who knew the area, and I eventually parted from them when they were kind enough to drop me at the far end of Tanjung Aan, before continuing their journey on to Kuta and more stunning South Lombok beaches, where they were collecting a series of photos for My Guide Lombok and Gili Islands.
I do remember they took some photos of amazing views over Tanjung Aan but if they had walked out on the peninsula where I was dropped off, they would have had some really dramatically spectacular ones. I hadn't realised how far you could walk up and over this peninsula until after I had been dropped off. I decided to explore. Well, I was prompted to go further on foot, after seeing a motorbike, with a surfboard attached on the side of it, descending the hill to my right, just past the beach cafe.
After climbing the knoll, I noticed a surfing beach with rough waves below but to my left the peninsula extended for quite some distance. I found it absolutely breathtaking, with the rough surf on one side and the more calm and serene waters in a little bay on the other. But then there were these extra finger-like stretches of land either side, with cliffs dropping sheer down to the sea.
I ventured along one to my right and looked down to my left and saw an irregular circular rocky island, where the tide coming around it created a triangular patch of sand, which really did look amazing. It had a hypnotic effect on me for a while, as I didn't feel I wanted to leave. But then I ventured the other way and found myself looking across at that 'Batu Payung – Umbrella Rock' from an entirely different perspective. The whole scene felt somewhat tranquil, especially with the fat buffalo quietly grazing on the steep hillside, as it descended in ridges down to the shore. If you have never been to this South Coast, I would recommend it as one of the wonders of Lombok! It is definitely worth the trip! Seeing this rugged coastline from your incoming airplane is nothing like actually walking from bay to bay, finding new scenes of snow white sandy beaches between green outcrops around every bend.
I shall seriously consider staying longer next time, as when I arrived back in England at the end of March I was greeted by the cold, and even some snow; certainly what you would call climate change and not for the better. It has only just started warming up a little, in the last couple of days and today was lovely and sunny. But it is definitely NOT Lombok in Indonesia.
I'll be back next year to walk another stretch of Lombok's wonderful wild South Coast. I must say, as a lone woman walker, I felt quite safe all the time, never thinking I was in the wrong place without some company. On the contrary, the freedom was exhilarating. I never thought anything could be better than a walk in the English countryside, but how wrong I was. Lombok is truly exquisite.