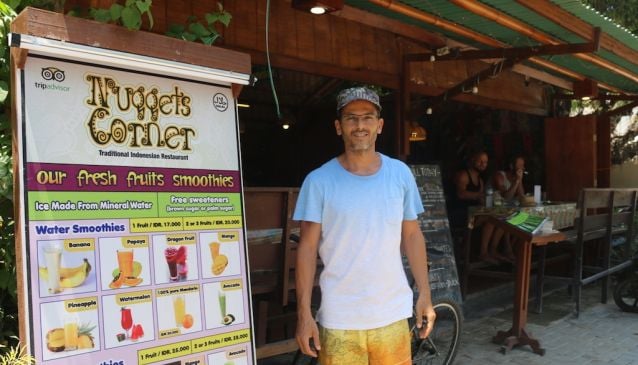 Nugget's Corner
Food & Drink
I really love Lombok and the feeling of pure freedom, which is the reason I decided to stay here.
Joachim and his wife Haryati have run Traditional Indonesian Restaurant Nugget's Corner in Kuta, Lombok for many years. Joachim moved 5 years ago from France and married his wife who became the chef of the restaurant. He has a big passion for ocean and great surfing which makes him stay in South Lombok. Moreover, he believes that Lombok has a great economic potential.
When did you come to Indoneisa for the first time?
The first time I came to Indonesia was 9 years ago. I came with my wife to discover her country. We first went to Java (Jogjakarta – Borobudur) and then we decided to come to Lombok.
Why did you decide to stay?
I decided to stay for my family, I got married here and have a 6 year old daughter. I always liked the Kuta lifestyle too. Lombok was offering me what I always dreamed about, that is beautiful landscapes, quiet place, great waves and cool people.
Can you tell us more about your business activities?
I spend a lot of time in our restaurant where we also sell traditional clothes and sarongs. We have also just opened a small chicken Rendang Fast Food in the new mall in Mataram (Epicentrum). So I travel a lot between Kuta and Mataram. Finally we run a gift shop and a transparent kayak operation in the Gilis.
What are your dreams?
My dreams are very simple - to have a nice house in a quiet place where you can still hear the birds. I would like to have enough savings also to buy a speedboat to discover unspoilt places with my friends.
What are your plans for the future?
I want to spend more time with my family and my friends. Travel more around Indonesia, because there are hundreds of fantastic places to discover.
What do you think about Lombok and its future?
I really love Lombok and the feeling of pure freedom, which is the reason I decided to stay here. It could be much better, if the government of Indonesia would help us to maintain the South Lombok clean! It is a big issue for us, local residents, but also for the image of our island. We try to help as much as we can with our association SLCA (South Lombok Community Association).